Well my Fugitive was still unable to get to this show (too much time spent on the phone to the DVLA and my local VRO regarding its registration and not enough time in the garage). However I managed to fit in a flying visit for a couple of hours on the Sunday afternoon.
All the photos on this page link to larger more detailed versions.
At least I had no real problems getting there unlike John who runs the owners club whose description in the club magazine of his attempt to get there from Wales is quoted below :-
"Stoneleigh was a complete disaster for me. About 100 miles from home I rolled the Fugitive into a truck stop to find it stuck in third gear, gearbox whining badly with oil dripping from it. About 5 hours later I was back home thanks to the AA man! No problem I thought, I will just have to go to the show in my Renault 5. About 150 miles from home I lost all the water from the radiator, the warning light failed to come on and the engine suddenly destroyed itself. I wish Renault fitted temperature gauges. I ended up being towed to the show by Darrell Stevens. The AA took the Renault home for me….. really embarrassing"
Despite the short time there I still managed to have a go on the Vision Motorsport challenge. As you can see in the picture this involves a Lotus 7 replica, a small trials circuit and a lot of sliding about. It's the second year I've tried this and it's always fun sliding a car about knowing it's not yours! Whilst it was a bit dearer this year (£5 for one practice and one timed lap) I would still recommend it highly.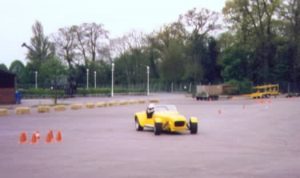 As there's not really much regarding Fugitives to mention that's about it for Stoneleigh , roll on Newark where there should be more to report on.
The following are a couple more snaps from the show. The Morris Minor was a 4 x 4 using a Landrover chassis and powered by a V8 and happened to catch my eye. The aluminium car was the new Gardener Douglas GT launched at this show in its aluminium prototype body.