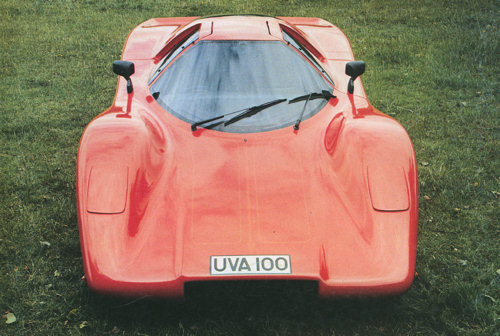 The McLaren inspired UVA M6GTR started life as the Manta Montage, manufactured by Manta Cars of California. From 1982 to 1985 UVA were the sole UK agent for this car, the photo above show the UVA demonstrator in 1982 when the imported kit was being marketed as the "UVA Montage".  The kit at this time costs £5384 and was primarily aimed at VW Beetle power although other engines could be fitted.
UVA then developed the car further and relaunched it in 1985 as the UVA M6GTR. The choice of suitable engines now included Mazda rotary units up to Rover V8s.
The car was a 2 seater mid engined sports car. No single donor was used. All parts were supplied new by UVA with the exception of the engine, gearbox, wheels and tyres.
The M6GTR was the dearest of the kits produced by UVA and was aimed at the high end of the kit car market.
More photos of the UVA M6GTR can be found at www.uvam6gtr.com. This site also has listed for sale a UVA M6GTR Chassis and Bodykit along with Body moulds and Chassis jigs!
Pictures
The following thumbnails link to photos of a very nice white example I saw at Donnington 1998 and a (grainy) photo of UVA's Fugitive M6GTR demonstrator
Documents
The following links are to scanned paperwork associated with the Montage and UVA M6GTR. Generally these are Adobe PDF format documents.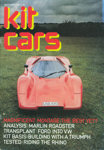 Kit Car September 1992 – Montage Review (150 dpi).PDF (1.3Mb)
A scanned 4 page review from "Kit Car" magazine published in September 1992 when UVA were selling imported Manta Montage kits under the UVA Montage branding

Which Kit February 1998 – M6GTR Ad (150 dpi).PDF (0.3Mb)
A scan of the UVA M6GTR 2 page advert that appeared in Which Kit Magazine in 1998
How Much?
Although difficult to give an idea of the price of a second hand kit car, due to the immense differences in specifications and quality possible between cars, the following are details of real cars seen advertised in the past.
Advertised in October 1997 issue of Which Kit? :- Part Built UVA M6GTR Mid Engine V8.Complete rolling chassis plus 6 boxes of parts, everything brand new, never built, Chassis will accept other bodies (I have taken this to mean that no body is included). £2400.
Advertised in May 2001 issue of Kit-Car :- UVA Mc Claren M6, 4.5 litre Rover V8, factory built, cost over £35,000 to build, exceptional car. £24,500.
As of 25th February 2011 the site www.uvam6gtr.com list several components for sale as follows:
Body & Chassis – LHD or RHD @ £4,500-
UVA M6 GTR body & chassis kit with a lot of parts (no engine) @ £17,000-
UVA M6 GTR Body moulds & Chassis jigs set @ £25,000-
The above site is totally independent of www.fugitives.co.uk